---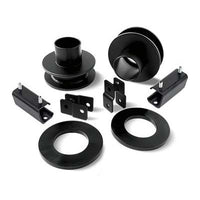 2.5'' FRONT LEVELING KIT - FORD SUPER DUTY 4WD 2011-2018
Max Lift: 2.5" - Maximum Tire Dia: 35".
2.5" leveling Kit for use with 2011-UP F-250/F-350 4WD trucks with factory 3" rear block.
Includes sound isolators, shocks extensions and sway bar spacers.
4WD only.
ReadyLIFT has engineered a line of suspension products made to fit the new 2011-2018 Ford Super Duty F250 and F350 4WD trucks. Our 66-2725 2.5" Leveling Kit provides new 2017 F250 4WD truck owners the ability to install wheel and tire combinations up to 35" and keeping the smooth OEM ride and drivability.
NOTE: - This 2.5" kit provides a near-level stance on F250 trucks with the factory 3" rear block. Some may measure 0.5" less than true level.
This ReadyLIFT Leveling Kit includes 2.5" powdercoated steel coil spring spacers, sound isolators, shock extensions and sway bar frame mount spacers designed specifically for the Super Duty platform. When it comes to leveling you get what you pay for. This great system specifically incorporates more than just front leveling. The sound isolator is installed between the spacer and spring to retain that great OEM ride and quiet sound. Shock extensions allow you to retain the use of those great riding brand new front shocks rather than having to replace them with cheap aftermarket versions. In addition, Ford changed the front suspension on the new 2017 Super Duty trucks and in order raise the front of the truck the front sway bar frame mounts must be spaced downward. ReadyLIFT designed new sway bar mount spacers just for this reason, something you won't get with other kits.